BrainSoftware S.r.l.
3D CAD-CAM SOFTWARE
FOR FURNITURE IN ALL ROOMS
Spazio3D offers software solutions from the creation of a single cabinet to photo-realistic project developments for entire rooms and everything that is required in industry (4.0). Various machine codes from most manufacturers can be output. Many manufacturers use this "cabinet program" labeled. Even the smallest version for through-feed drilling machines contains an extensive library of fittings and connection types.
The software masters every area of the interior. The Italian SOFTWARE, specialized in the world of furniture and interior design, has been working on the international market since 1992.
* Realization of customer ideas in real time
* Creation of graphic projects
* Immediate creation of cost estimates / offers
* Complete observation of the production phases
CABINET 4.0
The Cabinet 4.0 module from Spazio3D is a modern software for interactive furniture production. The module has a simple but powerful graphical interface with which any furniture typology can be designed. The integration into the CAM module enables direct connection to machines and workplaces for furniture production.
It guarantees a complete work management and the connection to the machines
Management of all warehouses and locations: from raw material to finished product; from the order to the final delivery.
Tool for manufacturing on Nesting CNC machines. It enables a significant reduction in material waste and production times, including the selection and storage of reusable residues.
Automatic creation of the complete furniture parts list and drawing to facilitate assembly
Automatic calculation of raw materials, processing costs, accessories and production times of a project
The edge and veneer lists of the individual panels can be called up from the completed project
This allows the ordered and numbered cutting lists of the components of a project to be called up automatically. Customer-specific labeling with barcodes for recognizing the individual parts can be individually adapted.
INDUSTRY 4.0
Data management and intelligent data creation Use of information for decision-making processes Communication and data acquisition Information integration along the value chain from supplier to consumer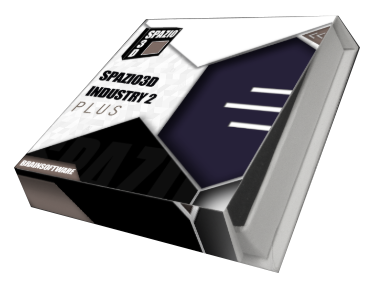 PRODUCTION
Spazio3D sees production as an integral part of the project: the modules supplied are therefore easy and intuitive to integrate.
COMPLETE MANAGEMENT OF THE PRODUCTION CYCLE:
Order the raw material
Work steps
Automatic creation of CAM programs for the CNC and other machines
Monitoring the progress of production
Create manufacturing drawings
packaging and shipping
M.E.S. SYSTEM
Spazio3D manages and controls the productive functions of a company. The administration includes the ordering process, the progress in quantity and time, the stock purchase and the direct connection to the machines. CLOUD COMPUTING SERVICES - DIGITALIZATION - CONNECTIVITY - INDUSTRIAL INTERNET
Training, sales, updates, service
Talk to us about your needs!
+49 (0) 2542 956 280 2